Expert: Bioscience industry crucial to NM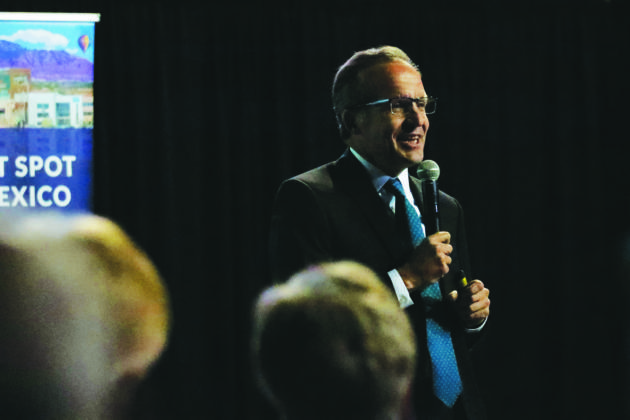 NM Bioscience Authority Chairman Richard Larson talks about the importance of the bioscience industry
for the state at the Sandoval Economic Alliance quarterly luncheon Wednesday.
The bioscience industry is one of the only industries the U.S. is still the undisputed leader in, said New Mexico Bioscience Authority Chairman Richard Larson at the Sandoval Economic Alliance quarterly luncheon Wednesday.
The flip side to this fact, he said, is that New Mexico is tapped into less than one-tenth of 1 percent of that market.
"When you think about it, bioscience is a green and sustainable industry with not much pollution tied to it," Larson said. "Plus, it also creates some of the industry's highest-paid job positions."
He said with funding from the state in the form of the Bioscience Authority, New Mexico has a really good chance to drive this industry forward.
"Many people think drugs and pharmaceuticals when they hear the word bioscience," he said. "There are many other fields that fall under this job description."
Larson listed several:
• Agricultural feed stock and chemicals.
• Bioscience-related distribution.
• Medical devices and equipment.
• Research in bioinformatics.
• Testing in medical laboratories.
The business model for all of this comes down to having a public component and a private component, he said.
"You need a robust university division that creates new inventions and discoveries that then transfers those discoveries to the private sector so they can commercialize and sell that product," he said. "The selling of that product then creates economic growth."
Most universities aren't good at running a business, so having a private partner is crucial in the development of a product, Larson said.
Larson said that in 2006, a University of New Mexico faculty member at the Health Sciences Center invented a machine that could screen chemicals for effectiveness.
Next, the machine was calibrated to screen 50,000 compounds an hour, which allowed the machine to screen all possible chemicals in a 10-hour time frame to predict if a chemical could be a drug candidate for a particular disease.
Larson said a company here in town was started, licensed the technology and raised money from investors over time. It eventually built an efficient machine now sold internationally.
"Eventually a German company bought the machine company, which included in the deal that the new company was to stay in New Mexico," he said.
Larson said New Mexico could capitalize on this type of business and success.
In the last 12 years, Larson said, UNM Health Sciences created 62 companies in New Mexico using this business model.
"Even during the recent recession, growth job-wise in the bioscience field continued nationally," he said. "This was the industry where the least jobs were lost."
Larson said at least 30 counties in New Mexico have a bioscience company.
"Post-graduation at UNM or CNM (Central New Mexico Community College), we are only able to maintain 30 percent of the qualified workforce," he said. "It's not a question of not having the workforce; it's the question of not having the jobs."
Larson said if New Mexico had a better economy, the younger generation could stay here post-graduation.
"We only retain three of every 10 graduates that work in the biosciences," he said.
Many of them go to Denver, Austin and San Diego, which all have a booming biotech area, Larson said.
"Five years later, those who have stayed are ready to move up in their field and can't," he said. "Working professionals at this stage have an even harder time finding what they need, and we as New Mexicans lose more skilled workers."
Larson said we have an easily employed workforce; we just need to create the jobs and the companies.
To combat this, he said, New Mexico needs universities and labs that continually produce patents that are licensed to continue economic growth in the bioscience industry.
According to Larson, the Health Sciences Center constitutes 80 to 90 percent of the bioscience research in New Mexico.
"The Health Sciences Center represents 900 projects at any given time and over $200 million annually," he said. "There are no state dollars for these types of programs; we get zero for the research we do."
Of all the fields in New Mexico, biosciences are where most of the patents are created, Larson said.
"We don't have a lot of financing for these types of initiatives. In fact, we as New Mexicans represent less than .1 percent of the national industry," he said.
Larson said he hopes to see these numbers change in the future and applauded Sandoval County for having the vision to see the need for growth in this industry.